Systems General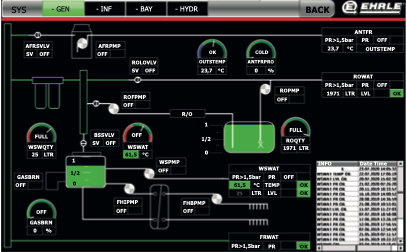 The presentation SYSTEMS GENERAL provides an overview of all relevant main systems of the EHRLE SB-CarWash system. Antifreeze, floor heating, water softening system, reverse osmosis system, filling quantities of all tanks and containers, temperatures, and heating capacity of the hot water boiler. The fill quantities are displayed both in digital and analog form. All system components are displayed in real-time and animated on the TFT screen. A simple display logic, derived from the avionics of modern cockpit systems, allows all operating conditions to be easily recognized and analyzed even by personnel who are less interested in technology. 3-color rule:
White: System is out of operation and on standby
Green: Currently in operation and OK
Red: There is a technical problem in this line
Washing bay systems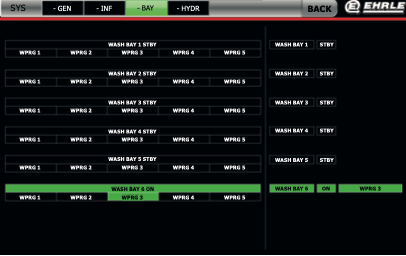 The Systems WASHING FACILITIES overview shows the entire self-service car wash in the respective operating states, separated according to wash bays. After customer payment has been made at the selected wash bay, the WASHBAY ON field is activated. When the customer selects a program, the selected washing program becomes active and the field e.g. WPRG 2 is displayed.
This display enables the investor to recognize and react to the washing behavior of his customers anonymously and without violating the DSGVO. This is especially useful for time intervals for the happy hour washing times or when changing washing and care products. Furthermore, idle times or the blocking of a washing bay can be detected simultaneously. It is a good feeling to know what is currently happening at the washing bay. This data can also be called up via a GSM or WAN/LAN modem and a VPN connection via the EHRLE App, at any place and time and can be clearly displayed on your SmartPhone, tablet or PC.
System hydraulics per washbay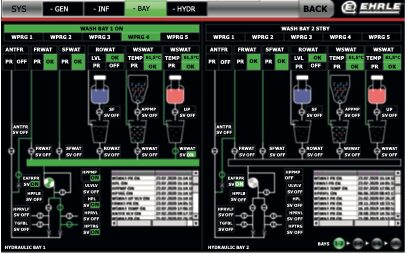 The page SYSTEMS HYDRAULICS PER WASH BAY provides information about the technical sequences and operating functions at the selected wash bay. The currently selected wash program is displayed in the upper area and the hydraulic diagram below shows the system components. In this view, the media flow and the switching positions of all solenoid valves and pumps can be followed. Here again, the already mentioned 3-color rule applies. Even the opening and closing of the washing lance at the washing bay are displayed online.
Manipulation or incorrect operation by the washing customer is quickly detected. This overview is indispensable for the analysis of technical faults and the service technicians can trace component faults online and provide targeted remedial action. The EHRLE remote maintenance department can also view these system displays in the event of a malfunction and provide rapid assistance via remote maintenance. On a separate page in the lower right-hand area, all operating states or malfunctions are stored again in analog form with date and time.